Work > Photography > Sensation



Living on the east coast of the British Isles, I long for the Atlantic and the different sensations that a confrontation of sea and land can offer. There are storms of course where vast Atlantic weather systems build and sweep into the British Isles along its western coast. But it is the calmer weather like here that I find the most thrilling. Early summer and the air is between warm and cold with an electric fizz that I associate with ozone. The sounds of the sea are below; rocking, meditative, and powerful but it's the warmth of colour in the sea pink's flower against the vividity of green grass that is unique to this place and time.
North Cornwall Sea Pinks 2000
View current 10 x8 camera catalogue
Exposed Flats 1998

I took his picture a while ago, but I am posting it now because last night, at dusk, a horse drowned here where that channel meets the open sea. I saw it about five miles east of here at about three o'clock in the afternoon; riderless but with saddle and reins, boldly charging up and down the dunes north of Burnham Overy Staithe… looking for its rider I thought. On the way back along the sea wall I met the rider who was walking out to try and coax the horse back. She had been thrown off on Holkham beach and explained how difficult it was to get this one back.... 'a mind of its own' she said.

I texted my coastguard friend about it and he said he had been out there watching it all go on with binoculars from a high point on Brancaster Common that overlooks this large slab of salt marsh, dune and beach. He said the horse had galloped west the five mile stretch that is Scolt Head Island and was now on its western tip... near the ternery I imagine. It had crossed the channel at one end of the island and was now about to cross at the other. I rang him just now (the next morning) and he said the rider, unable to lure the horse out of the water, had ridden another horse out into the waves ... calling and calling. It looked over at her, paddling. Then
deeper water but it just kept heading out.

It had looked so magnificent on those dunes.

HCW Instagram 2018.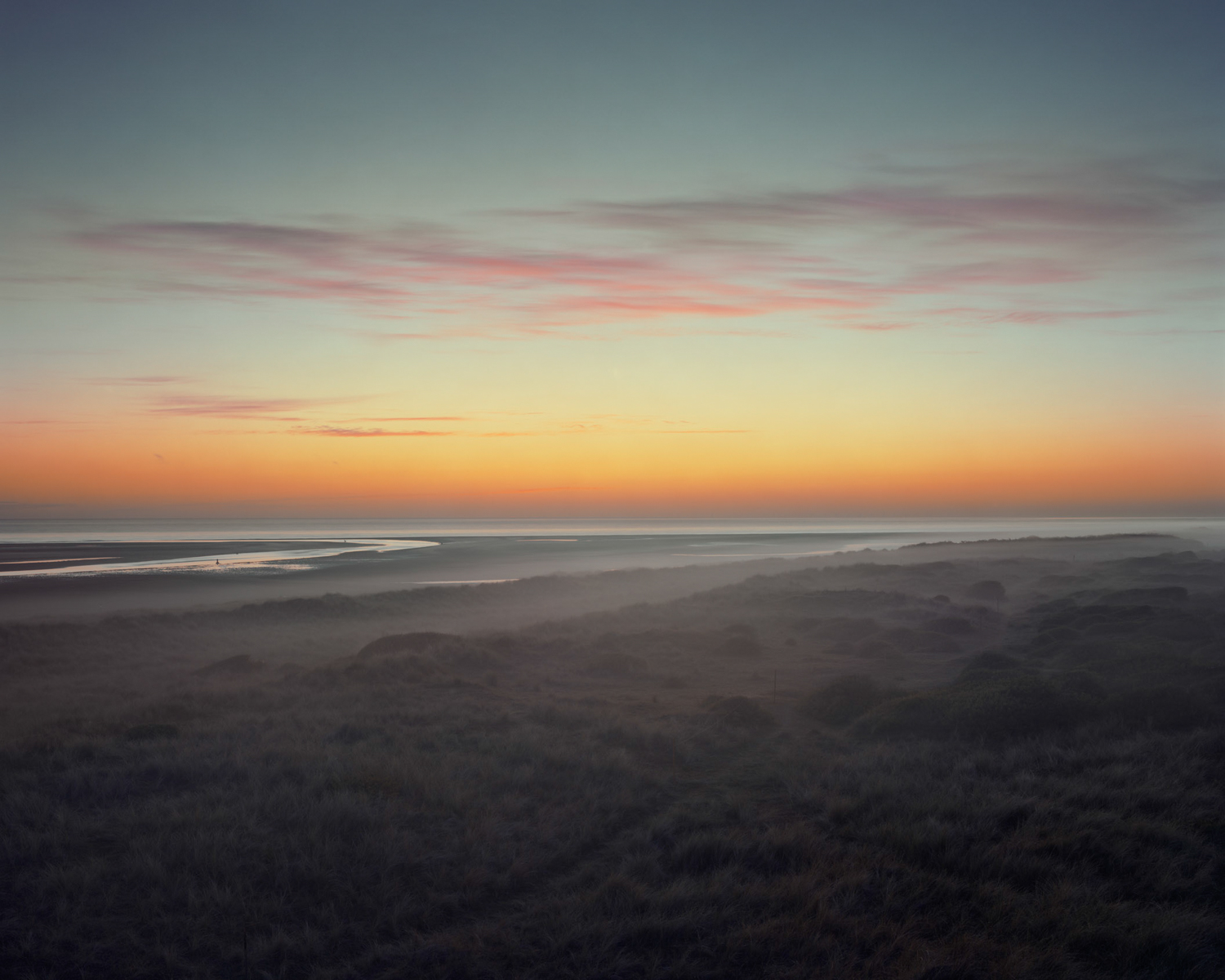 I have photographed these dunes many times. The moods they evoke vary wildly through the year and indeed through the day. Sometimes it is brutally cold with a north easterly coming off a raging sea. In high summer at midday it's as bright as any landscape can be, shadowless and with stark luminescence. Here is the place of a spring dawn with barely a movement, just slowly emerging light.

Norfolk Dunes Sunrise 2020








Shellduck 1997

This is the salt marsh in North Norfolk. The relationship between the various dynamics here is deep and complicated. For fifty years I have been fascinated by the place and it continues to beguile. This landscape, with its ever shifting tidal forces, visually rock free sense of impermanence and a blurred but rich history, has an extraordinary effect on people. Space, light, serenity and danger can be delivered on the same day and just when you think it is one thing... it becomes another. Its metaphors for a progressive take on the world are endless and I will always be drawn here to take photographs.